One of our ISOCS students shared
this
with his teachers - you can read a little about the assignment
here
.
Educreations
is a free iPad app, that makes it very easy to create and share audio and visual "lessons" or works, ideas, creations, etc.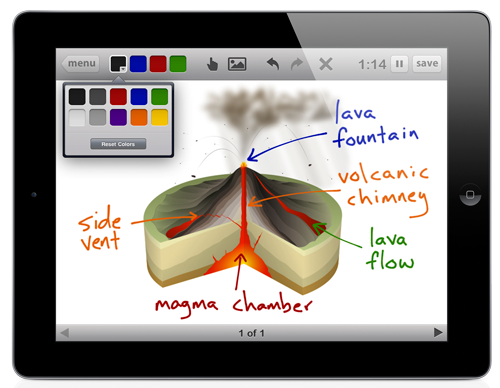 "
Educreations is a recordable interactive whiteboard that captures your voice and handwriting to produce amazing video lessons that you can share online. Students and colleagues can replay your lessons in any web browser, or from within our app on their iPads. Check out the "Showcase" on our homepage or the "Featured" tab in our iPad app to view some great lessons that other teachers have created with Educreations." If you don't have an iPad,

"
You can also create lessons using our online whiteboard, which works in any browser that supports flash. Just log in to your account on our website and click on the "Create a New Lesson" link to launch our online whiteboard."
The app has provisions for teachers to create "classes" of students, who can share a lesson, and schools can create Profiles on the Educreations web site.
Graham's poetry lesson was embedded here with permission.