If you like to play games online, and test your knowledge, you might enjoy these websites:


There are 16 games for the whole world, or different parts of the world.


This site also has pages of
interactive maps
.
"
(These maps) are all played as games, individually or in a group, competitively or not. Can you point to Zimbabwe on a map of Africa? Do you know where the Vietnam war took place? Can you find the Spice Islands (on a map, not in a boat)?
Statetris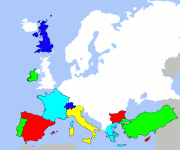 If you'd rather place countries in the right position using arrow keys, try
S
t
a
t
e
t
r
i
s
.
"
Statetris is an interesting game mixing aspects of the popular game 'Tetris' and geography. Instead of positioning the typical Tetris blocks, you position states/countries at their proper location." Choose easy, medium or hard levels.
Test your Geography Knowledge
A really serious quizz format interactive geography site to test your geography knowledge is at t
his site
. You can test yourself on the whole world, the continents, and some countries.